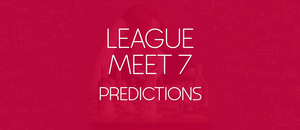 The Beverz Rating; League Meet 7
Now that the universities have had their fun with BUCS, its back to National League. The Beverz Rating has been kept up to date so we shall see what it thinks for Round 7 (6 for Women's League 1)
Men's Super League
If you don't know the big game in the Men's Super League, are you a true dodgeball fan? Two teams locked on the top same points, same set difference. But Lutterworth Meteors have won ten more sets than Leamington Spartans. The previous affair was a low scoring affair with a 11-9 win for Leamington and I think we will have the same again. Both teams will be looking to keep pressure on the wings rather than going for hits and opening up play. This is going to be a chess match rather than a heavyweight fight.
In complete contrast the next two teams we are having a look at are Bedford Rangers and Manchester Killer Bees. Their score previously was 11-17, a high scoring affair, probably because these two teams are happy to open up play and swing for the knockout punch every set. It feels weird writing this, but Manchester Killer Bees were missing two key pieces in Alex Bembridge and Robbie Angell and Bedford were missing Kieran Carrington. I think these will make a difference to the gameplay, but will they make a difference to the score line. 
To round out the Men's Super League the two teams sitting 8th and 9th meet right after the Spartans vs Meteors match. Stick around for it just to see if Leicester Dodgeball or MK cyclones can claim two points that mean they could climb up to 7th. As Wessex Wolves have 2 very tough matches! However, both these teams still must face Wessex Wolves in the last 2 rounds so its very much all to play for.
Lutterworth Meteors 11-13 Leamington Spartans (52.1%)
Manchester Killer Bees 12-12 Bedford Rangers (Rangers favoured 51.1%)
MK Cyclones 12-12 Leicester Dodgeball (Leicester favoured 51.6%)
Men's League 1
British Dodgeball, you must have your stream up today, those super league matches and then this; Derby Phantoms v Coventry Silverbacks, 17.45. Top two in the league separated by one point, I don't need to hype this up anymore but there are matchups across the teams that are going to be entertaining. Will Rhys Wiggins be looking to slow down Ed Raven or try and match the aggression? Will Alex Taylor be able to control the match opposite a Derby left wing that struggled against Matthew Josiah? Do Silverbacks have the power to hit out some great catchers? Predicted as a win for Silverbacks but it's been 132 days since the 19-7 win for Silverbacks in round 2.
This league is like the super league in a sense that there are great matches from top to bottom; there are two matches that will define the bottom of the league with Manchester Worker Bees involved in both. They are sitting in 9th two points ahead of London Storm 3 and two points behind Virtue Empire. These points will make a big difference to all three of these teams so they should be playing their hearts out for them.
Yes, there is more, Bedford Rangers 2 v Leeds Owls is also on this week. I think if either of these teams is going to make a challenge for the top three, they must win this match. If they do, Mighty Eagles are ripe for the picking. Mighty Eagles have two easier matches this week, but the final two rounds are the hardest out of all the league 1 teams.
Derby Phantoms 11- 13 Coventry Silverbacks (53.8%)
Manchester Worker Bees 12-12 Virtue Empire (Worker Bees favoured 50.4%)
Manchester Worker Bees 13-11 London Storm 3 (55.0%)
Bedford Rangers 2 12-12 Leeds Owls (Leeds favoured 52.0%)
Women's Super League
This is the league that has been consistently tasty in terms of match up and this round is no different. Starting at the top Leamington Spartans have a tough match up against East Anglia Valkyries. But don't forget that White Tigers only missed out by one set in their previous encounter. Sometimes teams focus too hard on one match that they underestimate their opponent. I don't think that will happen again.
 After that its all about the chasing pack: Sheriffs, Storm, Valkyries, Phantoms and Eagles are all separated by three points so I could pick out any of the matches between them to highlight. My pick of the bunch though is Derby Phantoms vs London Storm. Baseball has the curse of the Bambino; Football has the Curse of Ramsey* and Dodgeball has the Curse of the Phantom. Last time these two teams met, there was a last second catch from Bree Darcy to tie up the match 11 all. Then just last week in the mixed super league another last second play meant that Derby tied Storm again. 22nd of January, mixed super league 13-13 as well. When will it end?! I am tempted to put this one down as a 12 all draw but the Beverz Rating doesn't believe in such things.
Finally, we have Bedford Mighty Eagles v London Storm which was 20-2 in favour of the unpredictable Storm team. After Beagles dropped points vs Valkyries last meet, they need to beat Storm to stay within touching of the leader. Storm have already played the bottom three twice, so they have the hardest run in of the peloton in this league. Two wins and we could be talking about how they could win the league. 
Leamington Spartans 13-11 East Anglia Valkyries (52.4%)
Derby Phantoms 13-11 London Storm (53.3%)
London Storm 11-13 Bedford Mighty Eagles (54.2%)
 *For anyone interested every time Aaron Ramsey has scored the following people have died within days sometimes hours: Osama bin Laden, Kim Jong Il, Muammar Gadaffi, Steve Jobs, Whitney Houston, Paul Walker, Roger Moore, Bruce Forsyth, Ken Dodd, Stephen Hawking, Robin Williams, David Bowie, Alan Rickman, Burt Reynolds, and Nancy Reagan
Men's League 2
The league seems straight forward when you look at it but there are still stories to be finished. Norwich have played Leamington Spartans 2 twice now, so they have two big roadblocks to the perfect season; Rhondda in round 8 and Stafford Raptors this meet. Raptors have polished off their previous five opponents 129-19 and Norwich only beat them by one set in round 2. Tasty game and i'll have one eye on this whilst I watch the Phantoms vs Silverbacks game in Men's League 1.
At the other end of the table, I would have to say that two of the three bottom teams are going to be "relegated". With the proposed new league structure, I don't think any will go down, but MK Cyclones 2, Stafford Raptors 2 and Manchester Soldier Bees are fighting for pride. I expect it to be a good fight as well, especially this week when Cyclones 2 and Raptors 2 face off. In their previous encounter Cyclones 2 won 14-10 and both teams are coming off heavy losses last league meet.
Every league position matters when league reallocation comes in so Wessex Wolves 2 and Derby Phantoms 2 should be going all out. Wessex had an unconvincing win against Manchester Soldier Bees last league meet but will the extended break this time mean that they have put the time in?
Norwich Nighthawks 12-12 Stafford Raptors (Nighthawks 51.4% favoured)
MK Cyclones 2 12-12 Stafford Raptors 2 (Raptors favoured 50.9%)
Wessex Wolves 2 10-14 Derby Phantoms 2 (58.5%)
Men's League 3
BURTON PANTHERS GOT THEIR FIRST WIN!!!!!!!! Off the bottom of the table, only by 1 set but still, could they go on a role? Probably not against Sheffield Bovines but they do face the Worchester Virtue Slayers in their second match. We are now down to 1 team without a point and 1 team without a win, London Storm 3, and Leicester White Tigers you can do this.
Now the important stuff is out the way, let's talk about Leicester Predators v Coventry Silverbacks 2. Yes, I know they are the top two so we should be discussing them first, but Burton Panthers is a Cinderella story. If Predators win then I am sure to put their next match at the top of the order……. its against Panthers. A win for Predators would mean that they secure 2nd in my eyes but it may be too late to compete for the title. This is dodgeball however no one can predict what is going to happen.
Final game for me is Sheffield Bovines v Canterbury Crocodiles, not a match that has huge implications on the table but if Sheffield want a medal than they must win this. They are one point behind Norwich Nighthawks 2 which is the last match of the season.
Women's League 2 
Stafford Raptors are looking to extend their lead at the top of the table and should do with matches against Honey Bees and their second team. But it is the teams behind them that it is almost impossible to predict. I think the matches to watch are the two Derby Phantoms 2 matches. They are a team that draws upon the local Uni team which has just won Uni Champs. Therefore, they will be confident going into matches against Norwich Nighthawks and London Storm 2. These are big games for the two teams in 2nd and 3rd separated by four points as if the gap closes to two, then all eyes will be on Storm 2 to see if they slip up again. The below table shows based on the remaining fixtures the probabilities for each number of wins
| | | | | | | |
| --- | --- | --- | --- | --- | --- | --- |
| Team | Average percentage of winning rest of matches | 0 wins | 1 win | 2 wins | 3 wins | 4 wins |
| Stafford Raptors | 76.6% | 1% | 4% | 19% | 42% | 34% |
| London Storm 2 | 63.8% | 2% | 12% | 32% | 37% | 17% |
| Norwich Nighthawks | 66.1% | 1% | 10% | 30% | 39% | 19% |
| Stafford Raptors 2 | 34.4% | 18% | 39% | 31% | 11% | 1% |
| Derby Phantoms 2 | 48.6% | 7% | 26% | 37% | 24% | 6% |
| Manchester Honey Bees | 42.3% | 11% | 32% | 36% | 17% | 3% |
| Nottingham Sheriffs 2 | 46.4% | 8% | 29% | 37% | 21% | 5% |
| Virtue Empire | 21.8% | 37% | 42% | 17% | 3% | 1% |
Derby Phantoms 2 9-15 London Storm 2 (64.2%)
Derby Phantoms 2 10-14 Norwich Nighthawks (57.3%)
---