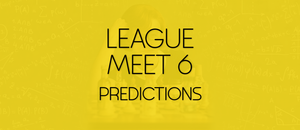 The Beverz Rating; League Meet 6
Women's Super League
I'm going to throw a curveball to start (get it... dodgeball). Queen Bees v White Tigers. I think this is a do or die for the White Tigers, they are 5 points adrift, but this could be 2 points to start the comeback. Queen Bees are looking vulnerable after a 20-point loss to Sheriffs and could be White Tigers first scalp. Wolves and Rangers both play Storm, who Wolves have already beaten if you haven't forgotten. So, with them hot on their heels, Queens need these points as much as White Tigers do. Should be straight forward on paper, but we shall see.
Then you know the other one, it's 2nd v 3rd; Valkyries v Mighty Eagles. I feel like there are great games every week in every league now, and this should be one of the best. Both with 2 wins last week including a very important win for Mighty Eagles over Phantoms means they are both on form. But it is the Valkyries that currently have the Beverz rating backing as they have had more convincing wins so far this season.
Spartans will be hoping for a Valkyries win to try and increase the gap at the top but Sheriffs are no pushover in their first game.
| | | | | |
| --- | --- | --- | --- | --- |
| Queen Bees | 16 | V | 8 | White Tigers |
| Valkyries | 13 | V | 11 | Mighty Eagles |
| Sheriffs | 10 | V | 14 | Spartans |
Women's League 1
They are back and they will be the freshest out of all of us. A big meet for Nighthawks, they are playing the team they are chasing and the team chasing them. Honey Bees are buzzing as they should bee back to full strength (I don't normally make Bee puns but Zoe said I should make more). London Storm 2 will want to get back onto the straight and narrow after defeat to Stafford Raptors. Both great matches that could go either way.
Then at the bottom both on 3 points Sheriffs 2 and Virtue Empire. The first time these two met it was the Empire who won 13-7, but after a 11-11 draw against Nighthawks, Sheriffs 2 are out for revenge.
| | | | | |
| --- | --- | --- | --- | --- |
| Nighthawks | 14 | V | 10 | Honey Bees |
| Nighthawks | 10 | V | 14 | London Storm 2 |
| Sheriffs | 15 | V | 9 | Virtue Empire |
Men's Super League
A comparably tame meet for the Men's Super League, with no top-4 clashes at all. So where may the upsets come?Storm and Sheriffs sitting 5th and 6th, the top three are all facing one of these two teams. We see rematches of two tasty meet 1 fixtures, Meteors only beat Sheriffs by one set, and a very depleted Storm team were 3 sets off Rangers. If the stars align we could see some real upsets.
The other end does have a tasty fixture, Leicester against Storm 2. It has been a while since Storm lost narrowly 13-11 but one question will be on the tip of their tongue. Is Dan Ryan still back and has he knocked off the rust from last meet? They should be careful though, there is a reason why they lost the first meeting and that wasn't it. Jack Moore was 1 hit away from a perfect game against Wessex, getting 5 out of 6 players out by one means or another. I was personally disappointed for him.
| | | | | |
| --- | --- | --- | --- | --- |
| Meteors | 16 | V | 8 | Nottingham Sheriffs |
| London Storm | 11 | V | 13 | Bedford Rangers |
| Leicester Dodgeball | 13 | V | 11 | London Storm 2 |
Men's League 3
This league meet could be a season decider already as Silverbacks 2 face Nighthawks 2. If Silverbacks win this they will be 6 points clear of 3rd place and promotion will be all but guaranteed. They haven't lost yet and don't seem to be close dropping 1 set in their past 3 matches. This was 14-8 in the first meeting so hoping for a close one.
Next to look at is a fixture that finished 13-13 in the first meet; Predators versus Mavericks. After that match though, Predators have only lost to the Silverbacks, whereas Mavericks have cruised to 4 wins and a draw out of 10. Could really hand Silverbacks the title if this one is an upset.
AND NOW TO THE MAIN EVENT: Neophytes v Panthers. I will be on the Panther's side with this one. For anyone that didn't know this team was set up by a group of guys, in a pub, 4 weeks before their first match. Cinderella story right, their aim is to win a match and win they might with this one. 12.30 start so get over there!
| | | | | |
| --- | --- | --- | --- | --- |
| Coventry Silverbacks 2 | 14 | V | 10 | Norwich Nighthawks 2 |
| Leicester Predators 12 (f) | 12 (f) | V | 12 | Hartlepool Mavericks |
| Worcestershire Virtue Neophytes 12 (f) | 12 (f) | V | 12 | Burton Panthers |
Men's league 1
This is where all the tasty fixtures are this week. Phantoms v Mighty Eagles, Silverbacks v Rangers 2, Thunderdodge v Storm 3, Worker Bees v Thunderdodge. And then there are a couple of possible upsets as well!
Lets dive into it. Derby are on a run of 7 wins right now and they now face Mighty Eagles, who themselves are on a run of 5 wins. The biggest of which was the 22-6 slaughter of Owls in round 5 who were top of the league going into that match. Two teams on a roll and 1st and 3rd in the league. What more could we ask for?
How about a relegation double header? Storm 3 and Worker Bees sit at the bottom of the table on 2 points. Both teams are playing Thunderdodge who sit in 8th, could go 6 points clear of relegation with 2 wins. If that happens then I would have to say the loser in week 7, when Worker Bees face Storm 3, would need a miracle to survive.
If any of these results go to the bottom two however then its going to be the tastiest of finishes to see who gets relegated.
| | | | | |
| --- | --- | --- | --- | --- |
| Derby Phantoms | 10 | V | 14 | Bedford Mighty Eagles |
| Coventry Silverbacks | 13 | V | 11 | Bedford Rangers 2 |
| Thunderdodge | 12 (f) | V | 12 | London Storm 3 |
| Manchester Worker Bees | 13 | V | 11 | Thunderdodge |
Men's League 2
Will Norwich Nighthawks slip up? Not this week, they dropped 5 set points total to their opposition last time they played. Therefore, eyes turn towards the chasing pack with Dragons and Raptors having potential banana peels. Rhondda will be facing their Welsh rivals the Wizards. If this were a football match, tackles would be flying in. Let's hope this is closer to the el classico than Stoke playing Port Vale on a rainy mid-week match.
Raptors were very close to losing to Phantoms 2 in their reverse fixture and Phantoms are coming off 2 wins including a 6-point win over Wizards. This will be one to just check on to see if it will go the distance again.
I don't see the bottom 3 picking up too many sets let alone any match wins, but if any Soldier Bees have the best chance against Wolves 2 and even then the first match up was 19-7.
| | | | | |
| --- | --- | --- | --- | --- |
| Rhondda Dragons | 13 | V | 11 | Camarthen Wizards |
| Stafford Raptors | 13 | V | 11 | Derby Phantoms 2 |
| Manchester Soldier Bees | 12 | V | 12 | Wessex Wolves 2 |
---