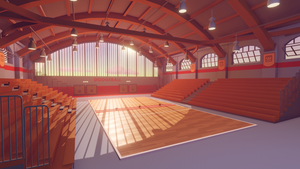 So… what next? Dodgeball post-COVID
It's hard to imagine a world outside of the temporal freeze we've been locked in for more than a year now. But it's true: one day, not so far away, dodgeball will return. So what can we expect dodgeball post-COVID to look like, in the UK and beyond?
We'll start with the bad news. Competitive Dodgeball will be one of the last sports to return properly. As an indoor contact sport played in a league format that relies on cross-country travel, it was already facing a triple whammy. Then factor in the average age of a dodgeball player, which at community league level is the 20-30 years, which is also likely to be the last age range to be vaccinated. An optimist would predict leagues return this September. Let's hope we can get back to training sooner, or find alternatives. But we may have to wait until 2022 to see dodgeball return to its full strength, at least in the UK.
It's not all doom and gloom...
There'll be numerous initial adjustments too. There have already been rumbles that several clubs will find themselves struggling at the start of the season. Come the end of COVID, some clubs will be without a home. Public leisure centres have found their budgets slashed; private ones are likely to hike prices up to cope with the post-COVID economic depression. Some clubs will struggle financially, some with player turnout, as all the momentum that had been built before the virus will have stalled. University clubs will have further issues to contend – with experienced players graduating and handing down to players who, in some cases, have very few weeks of experience.
English leagues should fare better than some other nations, including those within the home nations. Any fledgling leagues, with already small numbers of clubs, will likely have to put in even more legwork to see growth, so it may take years for the development of dodgeball across Europe to return to its pre-COVID state.
It's hard to imagine because, during the past few years, we've seen an increase in clubs in the UK. All this sitting around has been a conducive environment for those people who always thought of setting up clubs but never got round to dealing with the paperwork and admin involved. Suddenly, the only dodgeball there was to do was on paper. Whether these clubs remain once they start having to exist outside the theoretical is another question. For support on setting up a club, check out our guide on how to set up a club! 
The good news is that we can expect many clubs to burst onto the scene with fresh energy, and with recruitment plans that have been months in the planning. Some experts are predicting that, over the next couple of years, we'll see a cultural and entertainment boom across the world reminiscent of the roaring 20s. Hopefully this is reflected in the sports world too. After all, after a year of not being able to see anyone, who wouldn't want to try community sports? 
All this paints a very positive picture for dodgeball. That extra planning time means the shifts that we were witnessing prior to the virus – the European Dodgeball Federation and World Dodgeball Federation joining together to create hybrid foam-cloth competitions, as well as the shifts in league structures within the UK to aid regional development – should be more settled. New blood, new structures, and experienced players more eager than ever to get out there and compete. 
Outdoor Dodgeball... eh?
Following the UK Government's latest roadmap, it's looking likely that outdoor training and matches will also be allowed. Traditionally, it's not something the UK Dodgeball community usually embraces (mainly because of our unpredictable weather!), however, with testing times it can be a great, cost-effective alternative. Specifically, outdoors sports courts are set to reopen from 29th March, although many are already available to use.
We already see this in mainland Europe, where outdoor dodgeball (including beach dodgeball) has been established for some years, and more recently where COVID restrictions have begun to loosen. And it's even more common in some of our SE Asian communities too! (Oh the envy!).
 Pre-existing outdoor courts can easily be turned into makeshift dodgeball courts (such as those used for basketball or 5-aside). Often these courts have large metal fences and a decent floor, making it perfect for some outdoor training or matches. You might also want to mark out the court with our PVC court markers. Generally these types of courts are FREE or will be a fraction of the cost - just check in with your local council. So although it's still looking uncertain ahead, at least there are a few options.
For the short-term, outdoor dodgeball could become more of a thing. And we wholly encourage you to make the most of free outdoor facilities when you can. But this might not be one that sticks around forever!
The spirit of Dodgeball remains strong
Although it's been a tough year or so, the tight-knit, energetic dodgeball community has rallied together. We've already seen some great examples of how members have adapted to overcome the challenges that COVID has thrown at us, like @tap_tap_94 & @immy.gs!
The spirit of Dodgeball remains positive in the UK and although we do not have a defined roadmap just yet, hopefully we can see out these next few months and will be back together on a court soon, stronger than ever!
For more extensive Return to Play guidelines, please visit British Dodgeball.
---