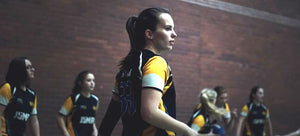 Getting to know Katie Howard and Girls Dodge Too!
So it turns out women can play dodgeball. Who knew?
Well, only the 500 or so formally registered female dodgeball players in the UK today , plus countless casual players!
The Girls Dodge Too! programme, by British Dodgeball, has been gaining some traction in the last month and wants to help increase its momentum even more to see the women's side of the sport reach new heights. So we caught up with one of their ambassadors, Katie Howard: Welsh dragon, ex-Arrow, and big Bee-liever in getting women involved in dodgeball.
How do girls get into Dodgeball?
Like many of us, Katie got her start in dodgeball at university. "In my 2nd year at Sheffield Uni, my course mate was banging on about this fun sports club he was in, and after several months of this I finally went to a taster session. It was so much fun! Everyone was laughing and having fun, and the sport itself is super easy to pick up as a newbie."
"After a year, I joined my local home team, Ultimate Dodge, to play in adult competitions. I also trialled and got into Wales Dragons, with my first international tournament a few weeks later. Dodgeball moves so quick sometimes!"
Katie now plays for the Manchester Bees. It's the people, as much as the sport, that's kept her around for so long. "It was just so funny to play, everyone would cheer on great plays, laugh at silly moments and I enjoyed seeing my ability grow. The people are just the best, so chilled and encouraging."
"I really enjoy coaching and sharing my love of the sport," she says. She currently coaches the under-11s Bees academy players. Lately, she's also gotten involved with Girls Dodge Too! (GDT!), as an ambassador for women's players. "The GDT! scheme provides the opportunity to lead female only sessions, with a focus on encouraging more women into the sport, which is amazing!"
So what is Girls Dodge Too!?
British Dodgeball announced the Girls Dodge Too! programme back in June of 2020, as a result of clubs expressing increased interest in developing their women's teams. A British Dodgeball 2020 survey revealed that over a third of clubs were interested in developing their women's sides or starting such a team if they didn't already have one.
The programme, though initially delayed for understandable reasons, has started to launch properly more recently, with GDT! ambassadors meeting in person for the first time last month. Overall, thanks to funding from Sport England, the GDT! programme is aiming to "engage over 300 women and girls of all ages and give them a fun experience of dodgeball that will keep them coming back for more."
Gender within dodgeball exists in a peculiar place. There are certainly issues of sexism: some individual, some systemic. It's harder to get women involved in the sport, so fledgling clubs tend to start out as men's teams, which is understandable. But when we look at the established clubs, it is a concerning symptom that some top-flight clubs have no women's sides, and, seemingly, no interest in starting them.
When it comes to individual incidents of sexism, there's no real system in place for registering complaints – some clubs may have their own rules, but generally it's nebulous and most structures ignore micro-aggressions. This means it's hard to know exactly how many women have experienced such issues. Still, play a couple seasons of dodgeball and you'd be lucky to not hear some sly comments made about the women's game by certain players.
But then, the treatment of women in dodgeball is generally miles better than most mainstream sports. Men and women frequently train together; mixed leagues exist and thrive; overall, male players support their female counterparts from the side-lines, the coaching box, as runners, or even just from the audience. Over the last few years in particular, the women's game has grown significantly, with British Dodgeball putting more focus and attention onto the sport.
The opportunities female players are given are pretty much equal to those given to male players, and this is something that really should be celebrated. It is not, by any stretch of the imagination, a common situation in sport. Think of the state of women's football versus men's; women's basketball versus men's; almost every women's division of a sport versus the equivalent men's. Dodgeball, by comparison, is a highly welcoming and overall egalitarian space for women.
"Overall, it's been great," Katie told us, when asked about her experiences specifically as a female player. "The comradery between teammates is empowering. However, there are still negatives comments, instances of sexism, that we still need to get stamped out. These issues make it harder to bring in new players and retain them.
"I'd say [gender equality in dodgeball] is off to a good start, however more needs to be done to encourage and retain female players in clubs, through training and language. "
And therein lies one of the ways in which women's dodgeball is in a great place compared to some other sports: the issues outlined above are ones British Dodgeball knows, publicly acknowledges, and is hoping to fix.
Girls Dodge Too! ambassadors will be running sessions within their local communities, with the specific aim to bring in new female players. This should help already existing clubs develop and grow their women's teams, as well as opening up the possibility for new clubs to appear. "I hope we will cover all ages, backgrounds and skills through our community sessions," says Katie. "I'd love to see some of the participants join in our clubs after the Girls Dodge Too! sessions, continuing their development in the sport.
So what are the GDT! ambassadors doing?
"We recently attended a training day together, where we learnt about the program, how to run sessions and discussed some topics brought up by our community. Our next step is to organise and run 8 sessions in each of our areas, aimed at varying ages. There will then be local and national festivals, creating a chance for new players to compete in friendly tournaments."
Beyond running sessions and directly helping increase the visibility of women in dodgeball, the Girls Dodge Too! programme should start some healthy discussions. The engagement that the GDT social media pages have had so far have been proof of that, in particular the ambassador-run GDT! Instagram page. Then there's the media attention, with Evie Ford of the Stafford Raptors recently discussing the programme in an interview with We Are Girls in Sport. And you, now, reading this article: that's a step towards creating a discussion.
Overall, the lessons GDT! and Katie are pushing are very simple: support each other. The dodgeball community is a special one – not a flawless one, but a unique and truly positive one. "Share your love of the sport, be encouraging to all players and use inclusive language. At our training day, we kept coming back to the same word – empower. As players, we want to empower each other to be confident in our abilities and work together."
Lift each other up. Back yourself. And, vitally, do everything you can to support your fellow players, regardless of gender.
If you have any ideas or questions for the Girls Dodge Too! Ambassadors, you can contact them via their Instagram page or using their email girlsdodgetoo@britishdodgeball.com – they'd love to hear from you.
Looking to start a women's club? Or just updating your equipment stocks for the new season? Why not check out our individual and club bundles, featuring all the equipment you need to play dodgeball: knee-pads, dodgeballs, PVC court markers and more.
---