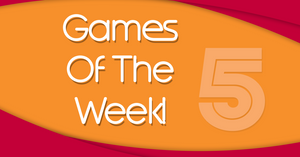 Games of the Week - Round 5
With the new year comes the halfway point of the season. Each team will play their 9th and final opponent, alongside a fixture against a team they played last meet. This means a lot of repeat fixtures from our last meet so it will be interesting to see if teams can adjust. Especially with the Christmas break meaning teams may have had a lack of training.
Women's Super League
First of all, I said London Storm 2 need to show up in round 4. And they did! Two big wins means they are off the bottom of the table and hot on the heels of Queen Bees and London Storm 1. The relegation scrap is hot this year with 4 points separating the bottom six teams. The match to look out for here is London Storm 2 v Stafford Raptors. Last meet the score was 14-10 and I expect another close match.
Unfortunately, we do not get to see the Leamington spartan v East Anglia Vikings rematch, however, as always there is a match that has huge connotations at the top of the table. Derby Phantoms take on Bedford Mighty Eagles; a win for Phantoms would mean they go 5 points clear of Mighty Eagles!
That isn't an insurmountable amount but you would have to question whether there are enough matches in the year for Mighty Eagles to catch up with Phantoms.
London Storm 11-13 Stafford Raptors
Win: 51%, Draw: 21,5%, Loss: 27,1%
Derby Phantoms (f) 12-12 Bedford Eagles
Win: 43,4%, Draw: 34,2%, Loss: 34,2% 
Men's Super League
I think this week in the Men's Super League is an aperitif for meet 6, where there are cracking matches across the board. I think there is only one match I am not excited about watching that meet.
However, when talking about this week, the match to catch (patent pending) is Bedford Rangers v Nottingham Sheriffs. This could go all manner of way but both teams will really want this win. After Bedford Rangers' poor start to the season, they have found their form again winning three on the bounce by double digits. Sheriffs will have a lot of confidence as well, after a one set win over London Storm.
I think Lutterworth Meteors have the other statement games facing 3rd and 5th placed Killer Bees and Sheriffs, respectively. It won't be easy but these are the matches you have to win to clinch the title. Leamington Spartans kept Killer Bees at arm's length last week, lets see if Meteors can do the same.
Bedford Rangers 14-10 Nottingham Sheriffs
Win: 63,1%, Draw: 18,7%, Loss: 182%
Lutterworth Meteors 13-11 Manchester Killer Bees
Win: 54%, Draw: 21%, Loss: 25%
Men's League 1
Oh my word Leamington Spartans 2 v Manchester Worker Bees is going to be a feisty replay! They faced off last meet and it came down to a one-minute set in which Spartans won. Spartans will be most annoyed by getting a blue card when 10-8 up.  A needless card complaining about a throw that was half a meter to a meter away from hitting a player. Lets hope that this match is decided by the dodgeball and not by sanctions.
Then to top it off Leamington Spartans have Bedford Mighty Eagles, meaning that they could be 4 points off the top two given Norwich Nighthawks easier matches. Bedford Rangers 2 showed that Bedford Mighty Eagles are beatable in this division, so, we shall have to see if it is two losses in two for them to start the day.
Leamington Spartans 2 13-11 Bedford Eagles 
Win: 55%, Draw: 20,8%, Loss: 24,2%
Leamington Spartans 2 14-10 Manchester Worker Bees
Win: 62,3%, Draw: 19%, Loss: 18,7%
Women's League 1
Wessex Wolves and Leeds Owls are neck and neck, nothing can separate them right now!
They both had scares last week with Wessex taking a 12-10 win over Norwich and Leeds taking Spartans 2 14-10. This week is where they will have played every team but before that, Owls have to play White Tigers and Wolves have Canterbury Crocodiles. Both of these matches are banana skins in a division where one slip up could cost them the title.
On the other side a loss for White Tigers means they are 5 points off promotion with only a slim chance of catching up again.
Wessex Wolves 17-7 Canterbury Crocodiles
Win: 73,5%, Draw: 12% D Loss: 4,5%
Leeds Owls 13-11 Leicester White Tigers
Win: 53,0%, Draw: 21,2%, Loss: 25,8%
---