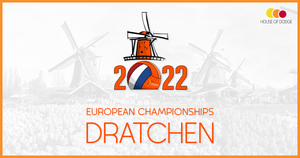 European Dodgeball Championships 2022
You may have noticed something tragic in your calendars: dodgeball is ending. National leagues have wrapped up, regional leagues are done and dusted, and suddenly, every weekend is free (well, until October, when it all starts again). No more St George's Park (until October), no more epic highs and lows of league-level dodgeball (except in October), only the sad feeling of emptiness as you bask in all your free time and lack of dodgeball content.
Except, rejoice! There is no offseason in dodgeball! Only national season (October-June), international season (summertime), and exhausted cries for help from experienced dodgeballers who will never get a break. And as one season begins to end, the other slowly comes into focus, as we set our sights and pin our hopes and dreams on the first international event of the year: the European Championships.
What are the European Dodgeball Championships?
The Dodgeball European Championships are exactly what they sound like: an international competition between all European nations that have national dodgeball teams (see list below). During the year, two smaller competitions – the Northern European Championships (NECs) and the Central European Championships (CECs) – also take place, with the European Championships occurring during the summer as the culmination of these two. 
Currently, the Euros are a uniquely cloth-dodgeball competition, as other formats of the sport (such as foam, which is played at the World Championships) have yet to break into the European continent in any significant way.
When is the European Dodgeball Championships 2022 happening?
Euros this year will be happening from the 14-17th July. The first two days are group stage games, while the Saturday and Sunday are knockout rounds and placement matches to fill out the table. Groups were very professionally drawn on June 11th: you can find the official groupings for men's, women's, and mixed on the European Dodgeball Federation's page. The whole event ends with an awards ceremony and, of course, an afterparty (which this year has its own Instagram page).
Where is the European Dodgeball Championships 2022 happening?
The Dutch national governing body, Dodgeball Bond Nederland, have been selected by the EDF to run the event this year. They have in turn chosen Drachten as the host town: a relatively small, rural town in Friesland, up in the north of the Netherlands. The local population is estimated at just under 45,000, comparable in size to Bridgend or Smethwick in the UK.
If you're planning to travel to Drachten, there are a few things you should know. The closest international airport is Groningen, though unless you live in Gran Canaria, it's unlikely you'll be using this airport. Instead, you'll have to go via Amsterdam International, which is around 2 hours from Drachten by public transport. Drachten is not connected to the rest of the Netherlands by rail, so this journey includes bus time. 
If you plan to drive to Drachten, it's worth knowing ahead of time that one of the town's main claims to fame is the fact that they haven't had traffic lights there since 2002. The idea is that, without traffic lights, people drive safer, and studies show that the town has had a dramatic reduction in accidents since the project started.
Who's going to be at the European Dodgeball Championships 2022?
The following teams will be appearing at the Euros in Drachten:
Austria: Defending champions of the 2019 Euros. Enough said. Very, very good, and very exciting to watch. A smaller club scene, a tighter-knit national team, and some of the most dynamic and fluid dodgeball you'll ever see. Squad announced here.
Belgium: Struggled with numbers in 2019 and only fielded a mixed squad, but seem to be back with a vengeance this year. Squad announced here. They have also started fundraising by selling Lotus biscuits, which is potentially the most Belgian thing I've ever seen.
Croatia: Made their debut in 2019, which seemed to have been a baptism of fire - though they managed to come away with a match win in the women's division. Will be looking to show off just how much they've improved thanks to the notoriously steep learning curve of dodgeball. However, they're completely absent from social media, so no squad announcements.
Czechia: The Czech team has been steadily improving over the last few Euros, and in the last international event - the CECs in Lausanne, 2020, right before the pandemic - they were second only to Austria. Will be chasing after that podium for sure. Squad announced here. 
England: hands down the most successful European national team in the history of dodgeball. However, the last few years have given them a run for their money - their women in particular will really be craving that gold, after three years of silver on the trot. The largest club scene within Europe, with more clubs than every other European nation combined. Squad announced here, as well as a GoFundMe fundraiser to help cover fees.
France: historically found in the lower half of the table, but that could all change this year as France has one of the most rapidly growing club scenes in European dodgeball at the moment. Quite a young squad, but in no way inexperienced. Squad announced here.
Hungary: debuted a men's squad in 2019. Since then, the sport seems to have grown significantly in the country. In the recent open hosted by the Licorne Dodgeball Club in Paris, the Budapest Pirates were a particularly strong showing, with their women taking second place, boding well for the national team. No official announcement.
Ireland: Prior to the pandemic, the Irish national team was having a run of fallow years, slowly dropping further down the table with each Euros. However, with the club quality in the latest Irish leagues, there's definitely hope that they can rise back to their former glory. Squad announced here.
Italy: very strong in the women's and mixed divisions historically, and with a men's squad that created a number of surprising upsets at the 2019 Euros and quickly became a crowd favourite. Can they capture that magic again this time round? Squad announced here.
Netherlands: The Dutch have a small, close knit club scene, and that lack of bench depth has caused problems in the past. This time however they're hosting, which should play to their advantage, making it easier to draw their total player pool along. No squad announced yet.
Northern Ireland: came away with two silvers, in mixed and men's, at the last Euros - in many ways the dark horse of the event. This time they'll definitely be chasing down their first ever gold medal. Squad announced here.
Scotland: historically always a fantastic squad, but never the best squad - no gold medals, but they do boast the second most silver medals (after England). A bit of a revamped squad this time round, thanks to the growth of the club scene up in Scotland creating more local depth to draw from. Squad announced here. They were selling their kit as a fundraiser through KitKult, but that offer has officially ended (though hopefully they'll make a reappearance on there later down the line)
Spain: after debuting in the 2019 Euros with only a mixed squad, Spain have worked hard to build up a more regular team. They attended the Licorne Open in Paris earlier this year as a national team, where they put in some impressive matches against French clubs - meaning they're the only national team to have competed internationally this year. Unlike last time, Spain aren't so green behind the ears, and could provide some wonderful upsets. No squad announced yet.
Sweden: always an incredibly fun squad to watch - some of the best stories from Euros have come out of the antics of the Swedish team on court. That being said, they do struggle to break out of that midfield. Never incredible, never terrible, always watchable. Squad announced here.
Switzerland: a small nation with a small dodgeball scene. Over the last three years, this scene has been quietly growing, and the latest squad shows a mix of old and new talent that could help Switzerland break out of the group stages. Squad announced here.
Wales: The final home nations team, and the one that has perhaps struggled the most recently. Over the pandemic, they've seen lots of changeovers, so this is very much a fresh faced Wales squad - maybe new and improved? Remains to be seen. Squad announced here.
How can I watch the European Dodgeball Championships 2022?
The EDF and the Dutch dodgeball association have yet to announce any formal way of watching it. Expect something to be announced closer to the time.
How can I play in the European Dodgeball Championships?
You've missed your chance for 2022, as you're cutting it a little fine; most countries trialled at the end of 2021 or in early 2022. However, make sure that you follow the national team's social media pages for your nationality (or nationalities) so that you don't miss the application window next season. If you play in a league system outside of your home nation – for example, you hold a passport for a European nation but play in the British Dodgeball leagues – make sure to contact your national team to make sure that they're aware you exist and ask them for information on how to trial in future. The EDF has a member nations page complete with contact information.
How can I support my favourite team?
Well, if you're Belgian, buy some cookies. But otherwise, there are lots of ways! Follow them on social media, make sure you tune into match streams, and share content around. If you can afford to travel to Drachten to support players in person, go for it - there are always supporters travelling in as it's a fantastic atmosphere.
The best part of Euros isn't the dodgeball, but the dodgeballers. It's one of the few times a year when this huge community of people who care deeply about our sport are stood in one room. There's dancing, there's chanting, there's crying and cheering and partying and, of course, dodging, dipping, ducking, Drachten. If you've never watched the Euros before, make this the one you watch. 
---