Dodgeball European Championships 2023
The Dodgeball European Championships is upon us again! Last year the Euros returned with a bang, after a three-year drought of international competition and there have been some interesting developments in terms of international dodgeball since we last saw European teams take to the court. 
We're sure many questions are on the tip of your tongue - did the Netherlands do as good a job as we remember? Or were we looking at the competition through Covid-tinted glasses? Will Croatia, a country relatively new to the international dodgeball scene, set the standard for future European Championships? Can we ever expect Euros to be hosted in a sensible location with quick and easy transport links? We can't answer these for you, but we can give you a run down of what to expect over the coming week. 
When, where and what are the Dodgeball European Championships?
As the name suggests, the Dodgeball European Championships is an international competition, historically held yearly (see International Updates below), between European nations with a national dodgeball team who choose to participate. There are no qualifying tournaments and this year the Croatian National Dodgeball Federation hosts the largest ever number of teams and nations! 53 and 19 respectively.
Unlike the Dodgeball World Championships, this tournament will feature cloth balls only, with no foam (or rubber) disciplines. There are three categories: Men's, Women's and Mixed. 
The tournament will take place from 19 – 22 October 2023 in Osijek, Croatia. Osijek is a charming city located in the east of the country, and is Croatia's 4th largest city. The city dates back to the 6th century, with a rich history and first associations with the Romans. Let's hope more history is written in 2023, with one of the highlights of the Dodgeball calendar!
What's been going on since last year?
To begin with some Euros-specific updates, this year will see the first ever European Championships with games of two 20-minute halves (previously 15 minutes halves), echoing the format of last September's World Championships in Edmonton (Alberta), Canada. Although a uniquely cloth event, the Euros set up has been updated to fall into line with that at the World level to work towards unifying the cloth and foam worlds. The feedback from the World Championships showed a strong preference for 40 minutes games (20 minutes halves). 
On the topic of World Championships, the Great Britain Dodgeball team has dispersed after a very short and disorganised life. And the Home Nations (England, Wales, Scotland, Northern Ireland) will now compete individually at the next World Championships in Graz, Austria – in both foam and cloth. It will be exciting to see how the Home Nations step up to this new challenge and whether all will be able to field teams in both disciplines. The GB team will apparently be revived for one-off tournaments but no clarification is expected on this point in the near future.   
Finally, the European Championships (which up until now and have taken place every year) and the World Championships (every two years) will now alternate with each other to take place once every two years respectively.   
European Dodgeball Championships 2022 Recap
Last year saw the Champions-turned-underdogs England walk away with no golds for the second time, taking home two second place trophies, a third place trophy and a lot of certificates. The men's title went to Northern Ireland, dethroning Austria, who had their most successful year yet, securing a further gold in the mixed and third place in the women's. Reigning mixed and women's world Champions Austria achieved silver and gold respectively, and fell short once again in the men's category, losing to Northern Ireland in a not so close final.  
There was also some notable finishes from Swiss Men, Dutch Women and Swedish Mixed, who finished stronger that previous years.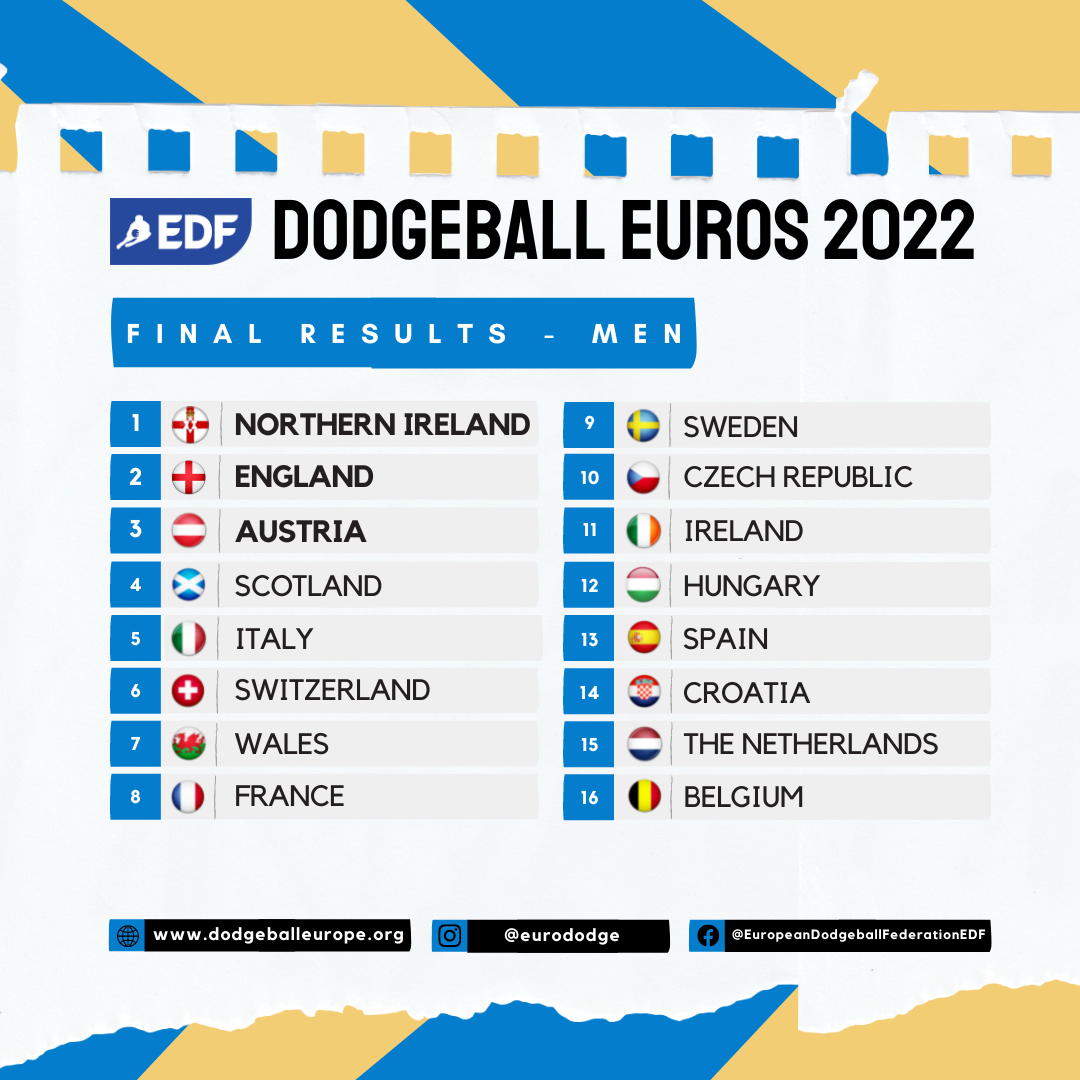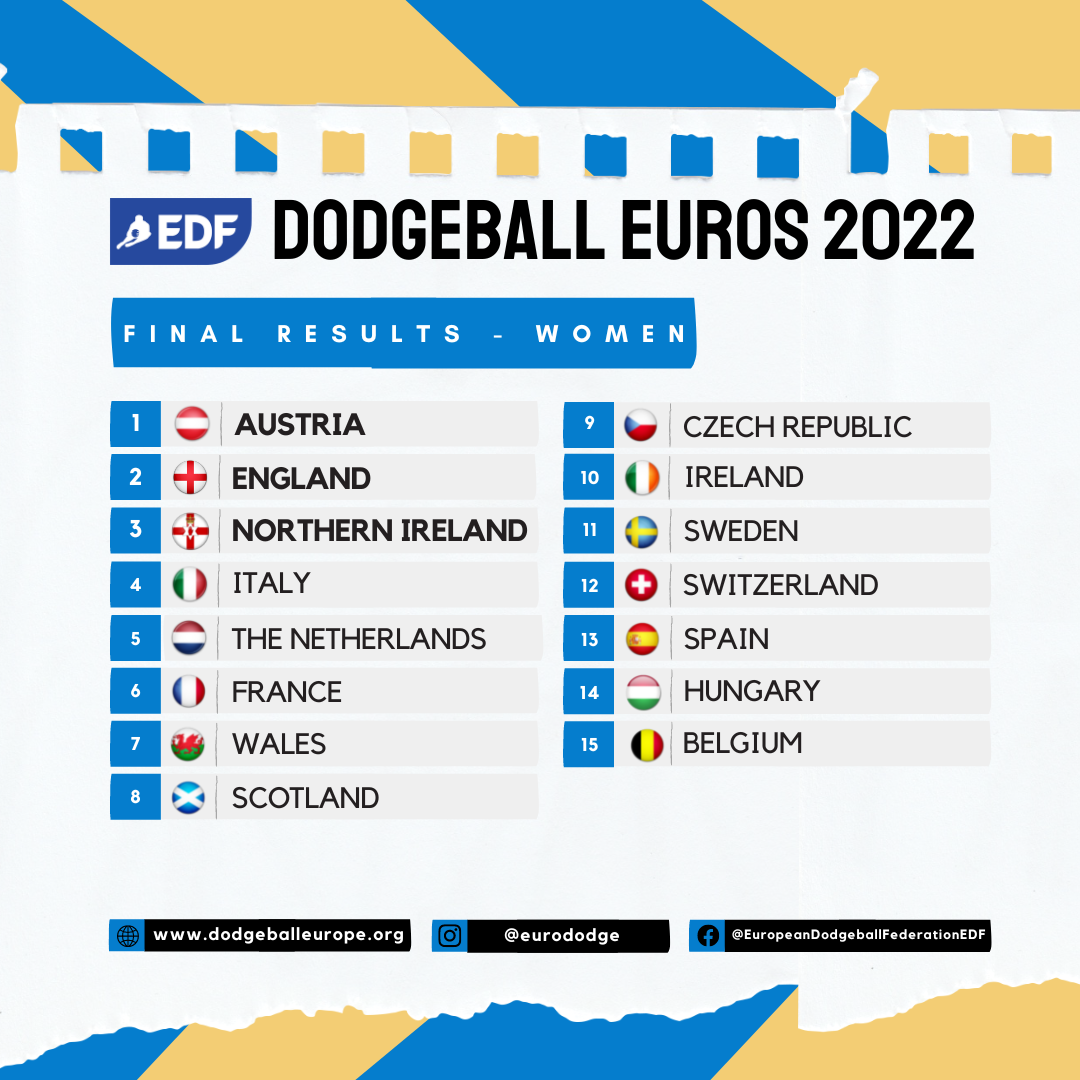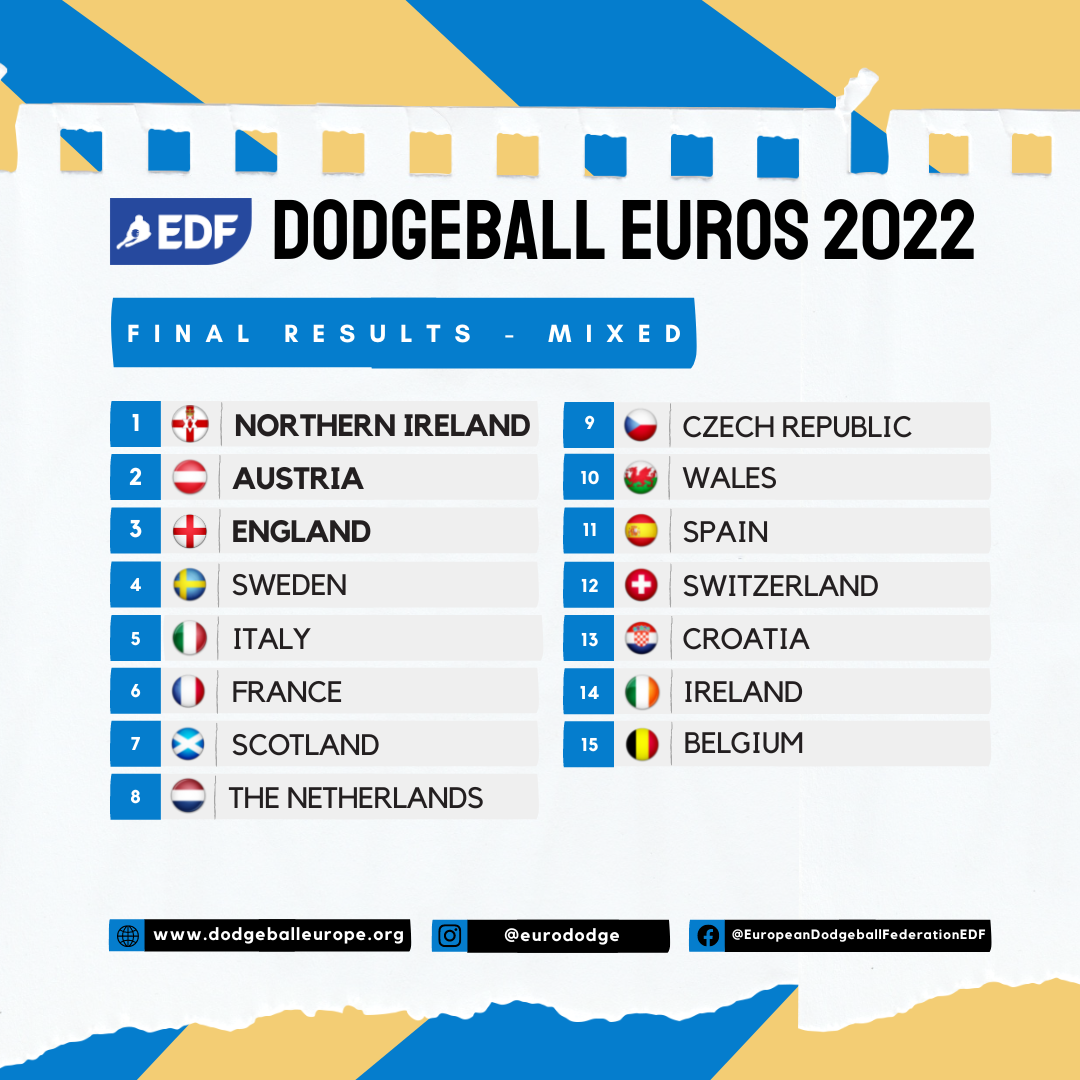 2023 Euros: Ones to Watch
Women:
Traditionally the women's game has been a fight between the titans Austria and England, with England coming off the back of a long run of losses in the final. Is this year the year that the teams biting at their heels get a look in?  
Wales have once again put forward a strong squad, but can they take the "top" women's teams to task? An acrobatic display from the Welsh women in 2022 saw England almost being knocked out of the competition. Interesting to see what another year of training together as a team, and against the English women in English leagues could do for the Dragons. 
Italy will never disappoint and are always an incredibly dynamic team to watch. Their aggressive style of play is their greatest strength but sometimes their undoing. Many of these women have been playing together at a national and international level for many years, but can they adapt their play to dethrone Austria, or deprive England of a final? 
France have in recent years been seen as the youngest squad, but now that squad is (mostly) all grown up and have years of playing together under their belts. Is Croatia their ticket to the podium? [check they haven't medalled before but don't think they have]. 
Men: 
Northern Ireland have been on a winning streak and played a huge part in the Great Britain men's team winning the World Championships last September. England men are looking as strong as ever but it remains to be seen if they can best what is swiftly becoming their bogey team. 
Austria seem to always fall short in this department, but with a renewed focus on fitness and a tightening up team cohesion, they will surely be looking to show that they are still the same 2018 World Champions. 
Scotland have arguably been quiet for some years. Despite putting on great performances at times, they've not quite pulled everything together. With some old faces returning and some new talent on the books, could they be due a resurgence? 
Mixed: 
Sweden are a country with a relatively small club scene and less opportunities for competitive experience, but who have captured the hearts of many dodgeball lovers over the years and proved themselves, particularly on the mixed scene. This nation showed their quality and established themselves as serious competitors at the Edmonton World Championships reaching the semi-finals. The Spectaculars have been growing from strength to strength and still love to put on a show.  
Austria are particularly strong in the mixed field with their fierce and fearless female players and tactically minded men. In recent years England have struggled to counter their adaptable play style. Will this year be the same? 
The Netherlands are a nation who have thrived in the mixed space but stayed behind the heard despite impressive efforts to cement themselves amongst the best of the best. Perhaps the momentum of a successful host Euros will spur them on to challenge the top teams this year. 
General:
Denmark & Serbia (& Portugal): These two nations will inject something new to the competition as they debut in Croatia. Both the Danish and Serbian teams have benefitted from the guidance of experienced UK and Swedish players respectively – perhaps these two could give our seasoned nations something to worry about. Portugal nearly fielded a team, hopefully a nation we see take to court in the future.
Another year means a whole 12 months of changes and develop opportunities in all nations – we can't wait to see how everything pans out! 
How can I watch the European Dodgeball Championships 2023?
The European Dodgeball Federation has announced that all games will be streamed on their YouTube channel so you can watch all the dodgeball action at home, under your desk as work/school or anywhere else you'd like. Don't miss any of the action  - The schedule of play is on the website and be sure to follow EDF on Instagram for more. Catch & Out will likely have some updates throughout, as well as the channels of all of the social channels of competing nations. 
I'm watching the European Dodgeball Championships and now I want to play!
Well well, we're glad you've seen the light – check out British Dodgeball's club finder for your nearest club. Or reach out to us! We're happy to point you in the right direction.
Image & Graphic Credits: European Dodgeball Federation
---