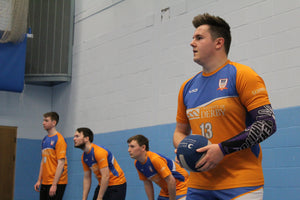 BUCS Report - League Meet 1
The first BUCS dodgeball weekend has come and gone at last, and the scores are in. Some familiar faces litter the tops of all the tables, though, surprisingly, not in the orders we've come to expect. Off the back of two COVID affected seasons, it may be that these initial fixtures will be less impacted by historic wins and years of training, and more by the density of PhD candidates, med students, and integrated Masters students in each team. 
In the mens' Premier league, Warwick, Imperial, and Sheffield all got off to perfect starts, each winning both of their fixtures. Imperial took out Birmingham on a healthy 17-7 scoreline, which may be the first sign of the Lions finally taking a bow after many seasons leading the pack. Sheffield put some distance between them and the other leaders with a 32-0 win against Newcastle, gifting them the position at the top of the table with a total point difference of +48 from their first two matches.
The men's second tiers also saw some solid action. In the Midlands, Nottingham's 2s took the lead with two wins against Trent 2s and Lincoln 2s, with some very close matches elsewhere on the day: Coventry losing out to Derby by a single set in a 10-12 nailbiter; Warwick 2s edging past Lincoln likewise in a 13-11 match; and Warwick 2s and Trent forcing each other out of the way of the pack leaders in a 12-12 draw, the first and only draw of the BUCS era.
Up in the North league, a deficit of fixtures meant only 4 matches happened: York 2s currently lead with two wins, though Sheffield 2s are right behind them with a win in their only fixture, a 21-5 against Sheffield Hallam. John Moore's also take the much unwanted award for the first team to get a 0-20 score for failure to attend their fixture against Newcastle 2s.
The men's South Eastern league shows Imperial 2s taking two solid wins to take them to the top of the table, with an 18-8 against East Anglia 2s and a strong 22-2 against Hertfordshire. UCL played it close to the line this meet, with two wins by single sets, a 12-10 against Portsmouth and an 11-9 against East Anglia 2s. The Western league, the smallest of the men's, sees Southampton sneaking past Winchester to lead the pack on point difference, with +6 points separating them.
The women's game is split into three leagues this BUCS season, all on equal footing, with no premier league yet. The Northern tier, which is played between Sheffield, Sheffield 2s, and Newcastle, saw Sheffield unsurprisingly take the lead (1s, not 2s), with a 20-4 win against their 2s and a 28-0 win against the non-Sheffields. 
Likewise mirroring the men's leagues is the Southern league, which shows Imperial storm on ahead as the only team to win both their fixtures in this region's opener. However, Essex on their heels, with a win on their only match, and a game in hand against King's College, which might give them the boost to push past Imperial shortly.
And finally, the most historically competitive women's league, the Midlands, which saw Warwick push past historic favourites Birmingham on point difference alone, with a mere +3 points separating the rivals. Derby follow closely behind with their two wins, making it a very close three horse race at the front, with only a +10 point difference splitting 1st from 3rd. 
As the season progresses, current freshers will climb the steep learning curve of dodgeball, and this means that, truly, this season could be anyone's. Judging by the quality of play on display at the Freshers Open (with Sheffield, Warwick, and UCL  taking 1st, 2nd, and 3rd respectively), the old guard of Birmingham and Nottingham national wins might have to step aside for a new era.
The current leaders of each league are:
Women's Midlands: Warwick 1s
Women's Northern: Sheffield 1s
Women's Southern: Imperial 1s
Men's Premier: Sheffield 1s
Men's Midlands: Nottingham 2s
Men's Northern: York 2s
Men's South Eastern: Imperial 2s
Men's Western: Southampton 1s
It's still too early in the season for ELO to give any useful insight, beyond agreeing with the tables as they stand, though as the league progresses and more opens occur this will be sure to change.
Author: Zoe Wells
Photo Credit: Harriet MacCullock
---