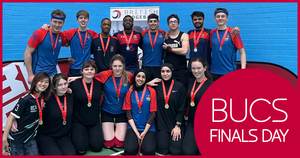 BUCS Finals Day – Cups, Calamities and Controversies
This is how the BUCS season ends: not with a bang, but with a whimper, official complaints, and reffing errors galore. 
It was a fantastic day of dodgeball from all players, and one that everyone should walk away from feeling proud of how they competed on court. On the sidelines, however, not so much, as a couple of major reffing errors cast a bit of a dark cloud over a day that should have gone down as one of the best days of the season so far.
In the interest of capturing what was, really, a good day of dodgeball, this article will recap the day itself first, and leave the controversies for the end. So if you're here for those, scroll on down; but if you're ready to read about the biggest day of university dodgeball this season, strap on in for a bumpy ride.
BUCS Background
For those who aren't in the BUCS system, the naming conventions of the finals day can get a little confusing. Throughout the year, the top university teams have been competing in one of three divisions. The historically high competing men's teams were selected for a Men's Premier League. The rest of the men's teams competed in regional leagues, dotted across the country, collectively called Men's League 1. The women's competition had a similar regional league structure, called Women's League.
The top teams within each of these leagues were invited to participate in the BUCS Finals Day. The actual name of the trophy depends on which division you played in throughout the year – so, confusingly, you now have a whole bunch of new names to understand. Here's a simple breakdown:
Men's Premier League 🡪 Men's Championship
Men's League 1 🡪 Men's Trophy (with top 2 teams being promoted to Men's Premier)
Women's League 🡪 Women's Championship
The teams that competed in each of these divisions are as follows:
Men's National Championship: Sheffield 1s; Warwick 1s; Nottingham 1s; Imperial 1s; Birmingham 1s; Leicester 1s.
Men's National Trophy: East Anglia 1s; Newcastle 1s; York 1s; Derby 1s; Plymouth 1s; UCL 1s.
Women's National Championship: Sheffield 1s; Newcastle 1s; Warwick 1s; Derby 1s; Imperial 1s; Winchester 1s. 
Matches were played at regulation league length, aka two halves of 15 minutes. The venue allowed for three courts to be played concurrently, which meant that at any given time, you had one match from each competition happening on each court. These all may seem like silly little details, but bear them in mind – these will, somehow, become relevant information later on.
Now that we're all on the same page, on with the show.
Men's National Trophy
The six teams were divided into two pots, with Pot 1 consisting of UEA, York and Plymouth, while Pot 2 contained UCL, Derby and Newcastle; the two pots played a round-robin format, with the top teams in each pot playing each other off in the finals.
Proceedings got underway pretty clean. In Pot 1, East Anglia saw off York in a 14-6 belter, before York took another beating in a 20-4 loss against Plymouth. This meant that the last match of the pot, the Plymouth versus East Anglia matchup, would decide who got a position in the finals – and perhaps more importantly, who got promoted to Premier League next season. 
This was an incredibly close fought match; the closest of the pot matches, and fortunately, the only one that was featured in British Dodgeball's livestream (starting here). Plymouth took the early lead, taking the first two sets, but UEA responded quickly, evening it out; by half time, the two teams stood at a 8-6, with Plymouth taking the advantage and having, just, led the whole time. UEA fought back valiantly from a 14-8 deficit, but didn't quite manage to close the gap, and the match ended with a 14-12 scoreline, Plymouth taking the win and the promotion.  
Over in Pot 2, group favourites Derby dominated over Newcastle and UCL, with a 19-9 win over the former and 18-6 win over the latter. This meant that the most exciting match of the pot was the one that perhaps mattered the least: the consolation UCL v Newcastle match, the battle of north versus south. Tragically, this one doesn't have a livestream, but the scoreline tells of a similarly close match to the Pot 1 nailbiter, with Newcastle taking a much-needed win of 14-10 over UCL, securing… well, nothing, but I imagine it certainly felt good.
This set us up for a Derby v Plymouth final. Two more evenly matched teams could not have been found. By the final set, the two teams were locked up on a completely even 11-11, with a final minute set to decide it all. Derby went up quickly off the running start, pulling together a lead of five players to Plymouth's remaining two, forcing the Krakens to play a fast and dangerous end of game. 
Even with that, you wouldn't put it past Plymouth to pull something out of the bag, as they opted for a game of counters. But Derby managed to hold on, thanks, in part, to some fantastic end-game catching and captain Ben Paddock doing what is perhaps best described as a last-ditch effort Naruto run across the centre court line. 
Final score: 13-11 to Derby, the winners of the BUCS Men's Trophy 2022.
Men's Championship
Pot 1 here featured Imperial, Sheffield and Leicester, with Imperial and Sheffield the first to compete on the livestream (watch from here). Sheffield took an early lead on the first two sets, but Imperial quickly caught up, and then massively overtook them (perhaps too massively, as we'll see). Sheffield took a few sets back to bring the score to 6-12 at halftime, but despite a massive effort, they couldn't catch up on that lead, with Imperial clinching the win on 15-13. 
The Imperial versus Leicester match was a little less close, with Imperial showing dominance early on. By playing a game of rapid sets, they managed to pull Leicester into a tricky position, ultimately winning the game by a huge 24-6 margin, guaranteeing Imperial their place in the Championship finals. Leicester and Sheffield went on to play consolidation friendly.
Pot 2 featured Warwick, Nottingham and Birmingham, in what should probably just be renamed the Midlands special. The first match showed Nottingham go up early against Warwick, getting under the skin of the Warriors by playing a more rapid, chaotic game. But Warwick slowed it down just before halftime, and brought it back to their more methodical game, bringing the scoreline up to 18-8 for Warwick at full time. 
This meant that Nottingham had to rely on winning their next game and hope for a Warwick loss versus Birmingham at the end of the day to have a chance at the final. What a shame then that they had the first half that they had (this match was also on the livestream here). At the halfway point, the score stood at 12-2 to Birmingham, with Nottingham's two points coming from two ties rather than a single win. They pushed back hard in the second half, but there are some deficits too large to overcome. Final score: Birmingham win, 18-8.
So it comes down to this: the varsity matchup. Birmingham versus Warwick, playing for that last position in the final. As always, a close match between these two, with Warwick pulling ahead – but only barely – in the opening rounds, putting a set between them and keeping it that way as the two teams see-sawed back and forth, winning a set, losing a set, and so on. 8-6 to Warwick at half-time, but Birmingham came out with a second wind in the next half and pulled it back to 10-10. Just over a set left to play, and it drew – 11-11, with a single, one minute set left. Right off the centre run, Warwick showed dominance in the chaos, getting those pings where they needed them, and bringing the Brummies to a standstill with a 13-11 win to the Warriors.
So: an Imperial versus Warwick final. This championship match was the one chosen to be livestreamed between the three finals, and before spoiling the whole match, it's worth treating yourself to the actual experience here. Warwick took the early lead here, though Imperial kept themselves in the game thanks to some clutch catches exactly when they needed them, closing the gap a little to bring the scoreline to 8-4 to Warwick at halftime. 
The phrase "it was a game of two halves" tends to refer to the two halves being drastically different. I wish I could use it here. The second half was much the same story as the first, rather tragically for Imperial, who never quite managed to get back to level with Warwick, always just a set or two behind. Bolstered by their lead, Warwick managed to pull a few ruthless sets out of the bag right at the end, just to make sure all of Imperial's hopes were well and truly dashed. 
Final score: 16-8 to Warwick, the winners of the BUCS Men's Championship 2022.
"We knew it would be a really tough game against Imperial but we knew what we wanted to do play our game, apply good pressure on the wings and really limit the number of catching opportunities, as when Imperial get a few, they snowball," said Warwick captain Daniel Docherty, with regards to the final. "The biggest thing that was probably the difference in the end was our cool temperament and attitude and there was no panic when things got tense. Like we've said all season play as a team, win as a team."
Matthew Sood, captain of Imperial, echoed a similar team-spirit sentiment in his comments, stating "It was such an honour to participate in the first ever BUCS dodgeball finals day. Some very difficult opposition resulted in very exciting games and an intense final. I'm so proud of the team and our performance across the season." Lovely stuff lads.
Women's Championship
And last, but certainly not least, the Women's Championship. Perhaps the most talked-about part of the day. Good things come to those who wait; except maybe not in this case.
Pot 1 saw Derby, Sheffield and Imperial come to a head. No favourites to win this pot, though Sheffield were perhaps favourites to lose it, as their limited league had seen them compete against only two teams throughout their BUCS season – one of which being their seconds. Derby showed their comparative experience in the opening match against Sheffield, taking a 15-5 win and an early lead. Imperial did comparatively well, with a 16-6 win against Sheffield.
So really it came down to the Imperial versus Derby matchup here, and you'll be very happy to hear that that one was the one that was livestreamed (watch here). Imperial managed some great pressure on the wings against Derby, with great counters and catching, though their dodging shone in particular as they dragged the frames out towards a 7-3 scoreline in Imperial's favour at halftime. Derby will have wanted to put high pressure in that second half to pull back the deficit, but that only seemed to work in Imperial's favour even more, as they took advantage of errors and Derby's frustration. Ultimately Imperial would go on to win their spot in the final with a clinical 13-7 win against Derby.
Over in Pot 2, Warwick, Newcastle, and Winchester faced off, and, again, it was the northerners who were doomed to struggle the most here. Warwick started their day off with a 24-0 win against Newcastle, which was brutal, and was also livestreamed here. The game mainly consists of some quick, but clinical, play from Warwick, showing their experience in the face of a brave Newcastle, who certainly won the hearts of the audience through their good sportsmanship and moments of brilliance throughout the match. 
Winchester similarly won their game against Newcastle 28-2, with Newcastle managing to snatch a few points out of an incredibly tough day. When it came to the Winchester and Warwick matchup, this was a little closer than the Newcastle matches, but still a definitive Warwick win, with a final scoreline of 18-6.
So that's a double Warwick-Imperial final, for those of you paying attention.
You can catch the women's game in the background of the Men's Championship Final livestream above. Warwick came out of the gates strong, taking the first set, but Imperial quickly caught back up, falling into a groove that they would maintain for the rest of the match. At half time, Imperial had flipped into the lead with a scoreline of 5-3; and would go on to dominate in the second half, making key catches against some of the stronger Warwick arms early on in frames, ensuring they kept their lead. 
"Having played all three teams (Derby, Sheffield and Warwick) at opens previously, we knew we were in for a challenging day," said Imperial captain Anisah Khan. "But with fantastic control from the wings and excellent dodging from middle players, we couldn't have asked for a better result!"
The whistle blew. Final score: 11-3 to Imperial, the winners of the BUCS Women's Championship 2022.
Players walked off, cheering ecstatically, or shaking their heads in bitter disappointment. They looked over at the men's match, which was still going on. They stood, and they watched, and the men played on for ten more minutes; and as captains were called in to sign off on a scoreline that was mathematically impossible in a 30 minute league final, it dawned on all of them.
Something had gone terribly wrong...
The Controversy – What Happened
Or should it be controversies? There are several, and we'll work through them in order.
The first is the conditions of the hall. Watch the footage in the livestream and you'll see where this complaint stems from: players were sliding and falling every which way throughout the day, on floors that seemed impossibly slippery. A lot of this comes down to sweat and moisture in the air, some of it comes down to dust. It creates a dangerous health and safety issue, with players running higher risks of injuries from sliding and slamming into the ground at high speed. It's a common issue, one that has been rectified in the past with towels and sweat mops, but since it's one that people haven't stopped voicing, it deserves to be noted. So here it is. Noted.
The second issue is an error that happened early on in the Men's Championship, in the Imperial versus Sheffield matchup. At some stage in the game, the referee accidentally adds an extra set in Imperial's favour: likely this point in the livestream, where it looks as though the referee adds Imperial's set, then goes to sort out a sheet that has fallen to the ground, and then adds Imperial's set… again. An easy error to make, but a tragically important one, as Imperial go on to win this match by a single set – a single set that they didn't actually earn. Since this match put Sheffield out of the competition, it's a shame that it came down to a paper error, rather than a player.
The third issue is the one that happened in the women's final. In a match that was supposed to be played in two halves of 15 minutes, this ended up being a first half of just over 11 minutes, and a second of 8 minutes. Unlike in the Sheffield-Imperial error, this refereeing error was noticed at the time, and so could have been rectified at the time. But it wasn't; the game was called where it was. The Warwick women's captain, Ellie Manns, refused to sign the scoresheet at the end of the match, and Warwick have, understandably, started a complaint with BUCS.
The Controversy – What Happens Now?
The question we're now left with is a tricky one, the one that British Dodgeball will be grappling with for a while in the aftermath: how could this have been avoided? The time discrepancy seems to have been the result of a referee who got muddled with the difference between open timings and league timings, and then panicked, ultimately leading to two confusingly uneven and short halves. So does British Dodgeball need more experienced referees? Well, yes, there's a problem with a referee shortage – but the referees for the BUCS finals were experienced. This was an event British Dodgeball wanted to go well.
When errors like this happen, it's never simply down to one person making a mistake. Much as we find it easy to pile blame at the door of referees, they're only human, and the expectation has to be that they'll sometimes make mistakes. That's why there are failsafe's. For an error of the scale of the timing error to happen, several things need to happen, roughly in this order:
The referee holding the match timer makes the initial mistake.

The second centre referee does not notice, or does not rectify, the first referee's mistake.

The team coaches (who often run their own match timers) do not notice the mistake.

The team captains do not notice the mistake.
For the scoreline error, a similar set of mistakes need to occur, with the additional caveat that the head ref is supposed to keep a written tally of the scoreline as the match unfolds. This is specifically so that any problems with the score noticeboard do not wreak havoc on the match, as happened here. Some referees also choose to announce the scoreline at the start of each set, ensuring that players and captains can notice any errors as and when they come up.
Ultimately, in the case of the timer error, the team captains did notice the mistake, but for reasons unclear, the referees chose not to start a third half to finish up the match in full time. Team coaches didn't notice the mistake for a simple reason: they weren't there. They were playing on the next court over. Most teams use coaches from their opposite sex teams as coaches – men coaching women, women coaching men. With both Warwick and Imperial men and women playing in the finals on concurrent courts, there were no coaches in the outbox, and so no timers, nobody who could flag the issue at halftime when it first arose.
It's hard to see what additional measures British Dodgeball can unroll. These are two unfortunate errors, and in the case of the timer error, pretty much unheard of. They're unheard of specifically because of all these failsafes. Electronic timers, viewable by all players, could rectify the problem; similarly, buying new scoreboards that don't have loose papers flying around could avoid the specific error that happened with the scoreboard. But these solutions require money – a lot of money, in the case of electronic timers – and British Dodgeball runs a tight budget.
What these types of errors do is show how relatively amateur dodgeball still is. Even with the great developments that have happened in recent years, such as the very existence of a BUCS league, this is still a relatively new sport with minimal external funding. So these kinds of fixes – better quality halls, better quality equipment – most often come out of the player's own pockets, leading to an uncomfortable choice: do you want high quality professionalism, or do you want cheap, accessible leagues?
There are sure to be consequences to the events of BUCS finals day, though I wouldn't hold my breath for any groundbreaking changes. These don't seem to be systemic errors; rather unfortunate individual errors that most other days would have been fixed by the failsafes. The individuals at fault will likely be reprimanded or retrained to some degree, if they haven't already. The reality is, these errors happen very rarely, but they do happen; it's just a shame that they happened on the same day, on one of the most important days of the season. The results of Warwick's complaint will come through eventually, but they will probably not bring any new major shifts with them. Imperial will probably remain the winners of the Women's Championship.
I wish I didn't have to write about this; I wish that this report had been easier to write, that the day had gone in a straightforward manner. More than anything, I wish that the BUCS dodgeball championship had been decided by dodgeball, played on court, plain and simple.
The reason it stings so much is because it was, truly, such a great year for university dodgeball in so many ways. BUCS is a massive, and long awaited, step for the growth of the sport. The level of play seen at university this year, from players who for the vast majority had to learn the sport under the shadow of the pandemic, was phenomenal. University level dodgeball is where so many of us got our start; it remains a special and unique part of dodgeball culture in the UK.
This season has been phenomenal, groundbreaking, thrilling, even just to watch from the sidelines. Long after the dust has settled, that's what we'll remember this year for: the first season of BUCS, in all its messy glory.
---